The replacement for DAF's elderly, but popular, CF model was launched last year, and Trucking has undertaken the first UK press test of a right hand drive example, with a trip to Eindhoven and back, and a sleepover to boot. This is the truck the supermarkets will like… by Pip Dunn
The first RHD examples of DAF's new little kid on the block, the XD, are now being delivered to operators, so it's a perfect time to put one through its paces. This wasn't a conventional road test; a fully loaded haul around a preferred test route. For this, the first UK press test of a right hand drive XD, I did something a little different; taking a tractor unit out solo from DAF's UK headquarters at Haddenham to its base at Eindhoven in the Netherlands. There I collected a trailer and brought it home.
The XD is a like-for-like replacement for the venerable and popular CF models that first appeared three decades ago. After several facelifts, it was time for Paccar to call time on what was now a dated, but admittedly still pretty good, cab. The XD, however, has moved the goalposts considerably as has been reported in Trucking before.
It is aimed at 18-44 tonnes, and can be specified as anything from a 4×2 rigid to a 6×2 tractor for general haulage while you can also order a 6×4 tractor for 65/80 tonne operation should you desire.
So it's a very versatile platform – as was, or indeed is – the CF. But it is really going to appeal to those sectors where payload is very important and/or where the driver is not expected to do days on end in the vehicle. It's a fleet motor, a gaffer's motor, a 'do the job, earn me money' motor. They will be popular with fuel companies, supermarkets, parcels companies, the Royal Mail and the like.
And that was highlighted by the truck spec I had, and the trailer I was collecting. The unit was a 4×2 with a flat roof, single bunk sleeper, although I'd say in that spec the truck would most likely be a 410bhp example and not the 450bhp model I had. The trailer was also a short, 33ft, wide-spread, rear-steer tandem curtainsider, very common in supermarket fleets and for other operators serving smaller shops and stores in residential and town areas. I should also stress, it wasn't loaded.
But still there was enough experience gained from this trip, some 600 miles of it, to really get a feel for the XD and appreciate its good points and, maybe, suss out any bad points. And on the way home, to get a better feel for the vehicle, I also stopped at Ashford International truckstop to sleep in the cab.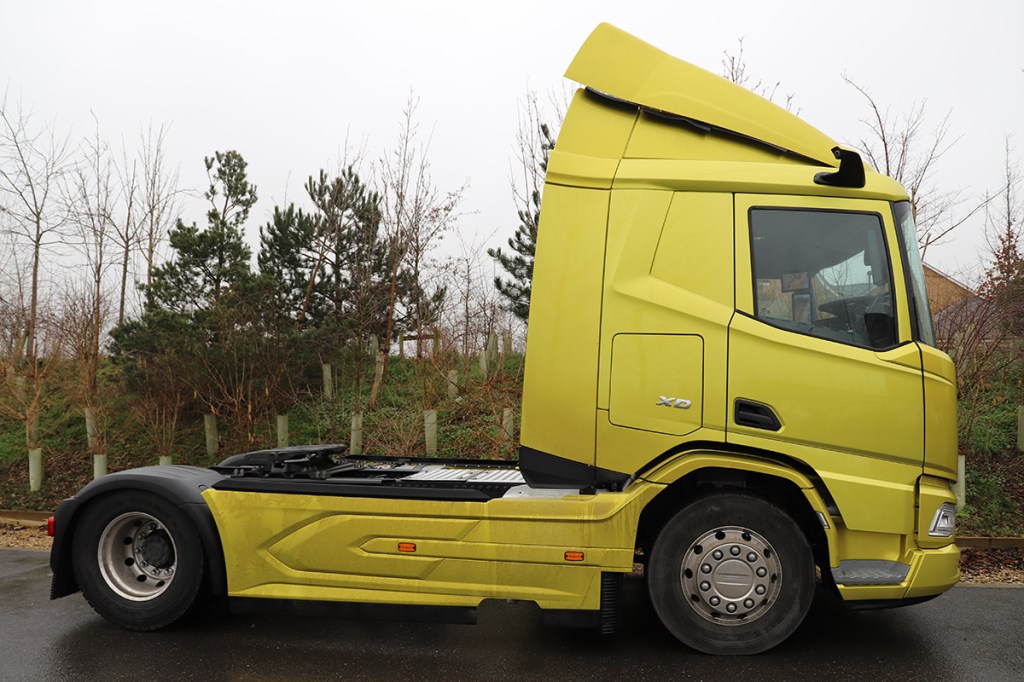 Technical overview
The truck I drove was the FT 4×2 tractor, with the single bunk, flat roof sleeper cab. The engine was the most powerful output from the MX11 10.8-litre straight six, rated at 450bhp. It's also available as a 6×2 with either a small midlift, a pusher axle, twin steer or tag axle. The twin steer middle axle will lock rigid above 40kmh.
Engines can be 299, 341, 367, 408 or 449bhp, and I'd say the 408 will probably be the most popular as a 4×2. But for 44 tonnes, then 449bhp makes more than enough sense as a 6×2.
The torque ratings for those outputs are 1,450, 1,650, 1,950, 2,150 or 2,350Nm at 900-1,400rpm on the lowest two outputs and 900-1,125rpm on the higher three. There is now a multi-torque set up which offers up to an extra 150Nm when in top gear to offer better fuel economy.
Cab options are also day and high roof sleeper, the latter can have one or two bunks. DAF78 had the 3.8m wheelbase with a 0.75m overhang. The front axle was rated at 8,000kg and the rear at 13,000kg with a rear axle ratio of 1:2.21. The gearbox was the expected automated TraXon 12-speed. This is the standard fit, and there is no manual option as was the case on the CF. The 16-speed TraXon remains as an option.
The truck was fitted with DAF's Digital Vision System – where cameras take the place of wing mirrors – with screens inside the cab on the A-pillars. DAF is the second manufacturer to bring such technology to market – albeit MAN's system was announced before it. Digital mirrors, pioneered by Mercedes in late 2018, are now no longer a novelty.
Where DAF scores highly is it has the option of full digital mirrors, including the kerbside and cyclops mirrors can be replaced by an all in one corner-view camera. More on that later. You can still have a mix of conventional and digital mirrors, but I have to say, I would wonder why you would.
Another major factor of the XD is its improved safety standards. It had 16cm front elongation to give a deeper crumple zone at the front while the cab will shift back 40cm in the event of a collision before it sheers off the chassis. It will also absorb more impact and the steering column will also move on impact. An air bag is an option. The dash has also been designed to reduce impact.
An electronic parking brake is an option, but my truck had the conventional and traditional lever on the dash, which, personally, I prefer. Other safety options are park brake assist – which applies the parking brake on all wheels, a useful feature for crane operators. Automatic application of the parking brake if the driver's door is opened is also an option.
As well as three cab types, there are a raft of different air management kits available to suit all operations and trailer types. The fuel tank on a standard 3,950mm wheelbase is 710 litres but a 4,000mm chassis can have 905 litres.
On the road
You can, rightly, argue an unloaded test drive doesn't show the full potential of any truck, but this trip it did still give more than a good appreciation of this vehicle. I do, however, look forward to a loaded test of an XD, especially an XD450 FTG which will probably be the volume seller for the company. That said, I have driven such a vehicle, albeit left hand drive at 40 tonnes, in Spain, and was suitably impressed.
Access into the cab is via two steps – providing the tyres are 315s or smaller – any bigger and you'll be having three-step entry. Anyone who drives on multi-drop work, or any work where entry and exit from the cab is commonplace throughout their shift, will appreciate two-step entry, and I certainly did.
Running solo is also very unrepresentative of most work, but it's a chance to get a feel for the truck's features, such as the new digital dash, the steering wheel buttons and other gadgets and features. The beautiful thing about the XD is not only do so many driver aids come as standard, but for a fleet or supermarket lorry, it's incredibly well specced even before you start going tick crazy on the order sheet.
Because the CF was designed in the early 1990s, it has never made the best use of its potential envelope – it had a strange narrowing at the top, so it was 2.3m wide above the doors and 2.5m below. The Germans did the same, in fact, still do, and I never see the real benefit of such design. The Swedes, for their smaller cabs, sensibly still stayed wide. A real bugbear of the CF was the fully-adjustable steering wheel had little to no movement to get it out of the way when getting in or out. That is the polar opposite of the XD which now has a steering wheel you can move out of the way to aid entry and exit – especially useful for that multi-drop work. It can sit flat, out of the way, when not in use.
The windscreen is also much better, with a lower bottom of screen some 17cm deeper. That means, with DVS and a lower side window in the passenger door, the truck has a four star rating for London. With a different bumper, it can even get a five star rating which puts it on a par with a Mercedes Econic or a Scania L series without the need to lower the cab to within an inch of its life! I think if you ask any driver, which they'd prefer, an XD or an Econic, I'd lay money on them plumping for the Dutchman.
The XD is a part of the same family of the new XF and XG cab – it's modular and shares many panels and components with its bigger brethren, so compared with a CF, it is brand new from top to bottom. All the 'black marks' of the dated CF – not enough storage, those quarterlight cab windows and so on have been wiped away – and the result is a truly stunning workplace.
The new dash is laid out superbly, and easy to change function or display to suit your requirements – and this can be done on the move. Also, all the buttons are now closer to hand and those on the steering wheel are better in every respect.
One thing you also notice is how quiet it is inside, it's so peaceful and while that may in part be due to a great road surface on the main motorway from the Channel Tunnel to the Netherlands via France and Belgium, it does not escape the fact this is a lovely, quiet cab to work in. In fact, the interior noise is down to 62.5dB compared with 68Db in the CF. That's amazing and something I really noticed while on the move.
Naturally without a trailer and 450bhp on tap, it is a bit too lively out of the blocks, so you have to respectfully accelerate to avoid throwing yourself out the seat, and also, in reverse, excessive use of the strong and effective three-stage engine brake while running solo is not advisable, but with a trailer it pulls superbly and brakes equally surefootedly.
The adaptive cruise control is very friendly once you get used to it and set it up how you want and you can keep it at a steady 56 mph with ease, and getting there is no problem. If you set too much of restriction on it then it can slow you down a bit too much, too soon, and so to avoid unnecessarily early pulling out, you need to stick in the lane behind the slower vehicle, apply the gas to override the ACC, then pull out when safe, and wise, to do so, so as not to hold up other traffic, especially on just a two lane carriageway. As I say, I have driven a similar 450 XD at 40 tonnes loaded on six axles and it does not struggle in anyway even on hills.
On the way back, with the trailer, the truck stuck to the road like glue, it was absolutely effortless to drive and very relaxing. Whack on the ACC, pop the arm rests down (a standard feature on both seats on this fleet spec truck!) and sit back and enjoy the drive. Even when we hit the stop-start traffic of the Antwerp ring road rush hour, there was no issues or stress.
The digital mirrors are also superb, and special praise has to go the corner-view. This is an angled camera that replaces the kerbside and cyclops mirrors in one, and relays its images to a screen at the top of the passenger side A-pillar. And it's absolutely fantastic. For those tight manoeuvres, such as at the negotiating custom barriers and boarding the Shuttle train, it makes positioning so much easier and safer. The screens have a red overlay line to mark where the end of the trailer is, and is an excellent tool to tell you when it's safe to cut back in after overtaking.
This is the one piece of kit that really makes not only this truck stand out, but also leaves you questioning why anyone wouldn't have it. It's easy to use, and you can look at the most potentially accident prone part of the truck in one view, not needing two mirrors. If you opt for DAF's DVS, make sure you have this, and even if you opt for normal mirrors – I'd still say take up the ability to specify this feature.
DVS is also fine in the dark or the rain (and both at the same time), so critics are running out of things to slate the new technology. I understand to a degree the argument that they are 'just another thing that can go wrong', but the fact is, they rarely do and they are less likely to be damaged. There's a lot that can go wrong on any modern truck, so don't be put off by them, besides I think it's only a matter of time before they are a standard fit on about every make and model!
One mildly irritating feature was the automatic headlights. The truck reverts to them when you switch the engine off regardless, if like me, you prefer to have your headlights on at all times. So you have to flick them back on! If you pop them on 'on', they should stay on! Well that's my view!
I had one other gripe, and it was a minor one. The automatic door unlock on the key fob often took three or four attempts to unlock, and then often unlocked the passenger door first, then another couple of presses were needed to unlock the driver's door. As this was a pre-production model, I'm told it was just a glitch on this exact truck, so – assuming I don't experience it again – let's just accept it was just that, a minor glitch.
The passenger seat flips up, in fact it stays in this position unless there is weight on it, as it gives a clear view of the lower window. The only downside – and this affects all trucks – is having that extra lower window means the main window does not lower fully. The pull-down sun blind was a little bit of a stretch to both use, and the catch to release it back to stows away was also a bit too far away, but nothing overly worrying, nor dangerous to use while driving.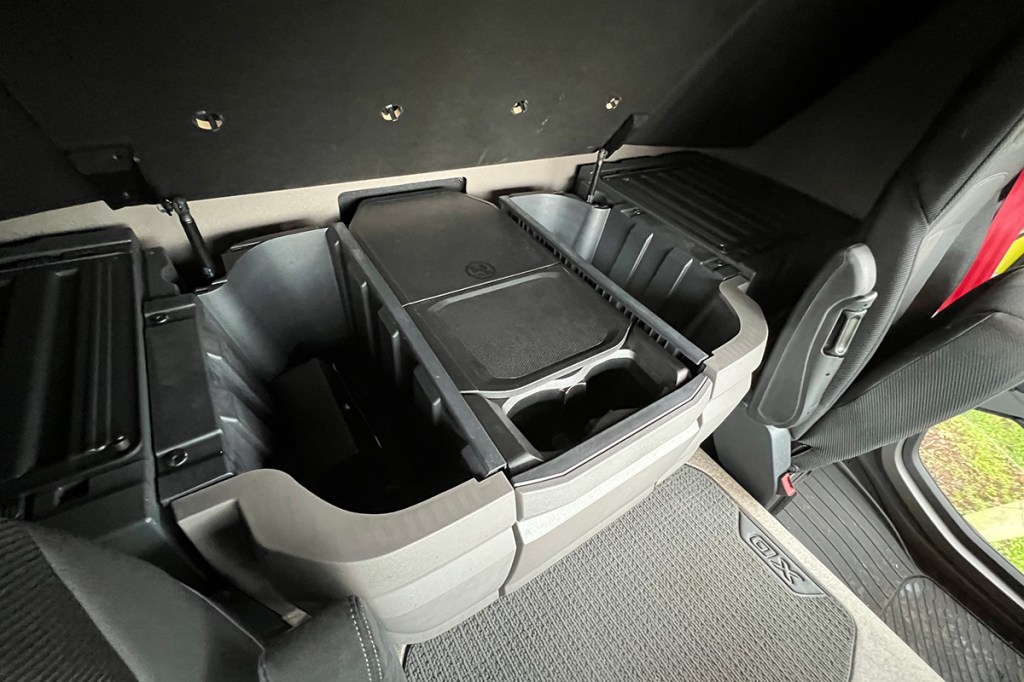 Overnight
I am trying to sleep in more road test trucks to get a real, and better feel, fit how they are for drivers. I've already slept in the DAF XG with its supersize 80cm wide hospital bed mattress (TRUCKING issue 468), but this was a different ball park.
As I mentioned, the truck had the flat roof, so for me at about 180cm, I couldn't fully stand up – not that I was expecting to. But stood in the passenger footwell, I wasn't far off it as there is 162cm of headroom there (it's 207cm in the high roof). Otherwise, the internal height on the engine hump is 130cm (and 175cm in the high roof). Also, sat on the bunk, I only had to tip my neck forwards slightly. The engine hump was 44cm in a CF, but is reduced to 32cm on the XD. That does preclude the MX13 engine but for this sector does give the driver much more room and makes cross-cab movement so much easier.
The bunk is quite high due to the large under bunk storage, and that's a valid trade off. To have a lower bunk would have lost you that two side lockers accessible from both outside the truck and inside, not to mention the room for the large fridge. Most drivers using this truck would welcome the fridge more than a lower bunk.
The bunk itself is mega thick, some 16cm, and so very comfy, and even though mine had an extra mattress topper, it would have been fine without it. It was lovely and spongy, but not overly so, and gave an excellent rest.
The curtains were very thick and kept the light out. As a pre-production model, the cuts to allow them to go behind the camera displays weren't big enough, so I slept with the curtains over and blocking out the mirrors, but on the truck you buy, that should not be the case. And that is just as well, because a real plus point of digital mirrors is the ability to turn the cameras on when parked, to allow a view of the outside of the truck in case anyone is snooping around it, something you can do from the comfort of your bunk without the need to open any curtains or the doors. A brilliant safety feature.
The reading lamp by the bed is excellent, you waft you hand in front of it and it lights up; excellent when you want to wake up without putting on all the lights, or just want to nod of at night. It's also great for reading. The night heater is easy to use, although the button for this is on the main dash, and really needs to be by the bunk alongside the reading light.
Getting on to a quite high bunk in a flat roof sleeper isn't difficult, just mildly annoying as, for so many drivers now, high roofs are the norm. But if you are only doing it now and then, it's no hardship. I comfortably got undressed and into bed with no hassle.
After an intense day, I nodded off very quickly indeed. As someone who doesn't sleep in lorries all that often, it's still bit of a novelty, and sometimes I struggle to sleep in unfamiliar surroundings. Sure, I was awoken briefly by the truck next to me setting off of its day's work at 03:20, but that's the issues with truckstops, they are – rightly – 24-hour operations and drivers have to leave at all times.
The night heater did its job superbly – not too hot, not too cold – and made little-to-no noise, certainly nothing to irritate me. No light came, the nightlights were easy to turn off in and so all in all I can't fault it. So while not the best night sleep, but at no fault of the XD, I have it admit there was lot less noise that I was fearing.
Getting dressed was, again, ok, and yes, I'd prefer a high roof XD, but this was a nice compact and cosy place to bed down in. I genuinely believe you can tramp in a high roof XD, and you can certainly sleep well in a flat roof. You'll see plenty of XDs with this cab, and those drivers will be fine!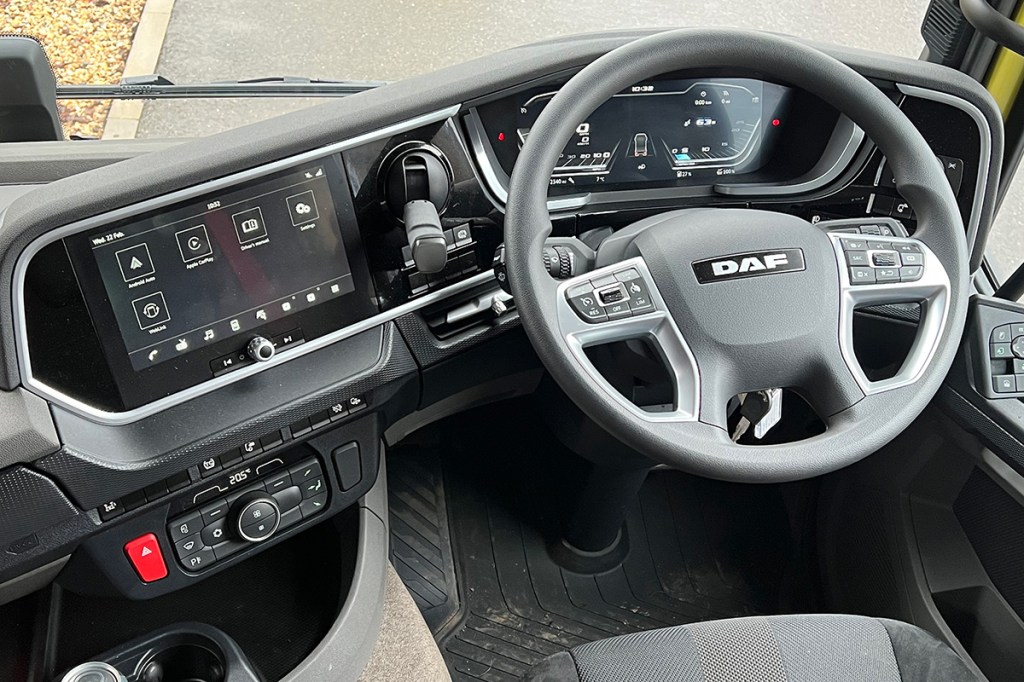 Verdict
I always liked the CF as a competent, no frills workhorse. But even I agree, it was dated by its 2013 makeover let alone a decade on. But DAF has replaced a winner with an even better winner.
If all I'm 'complaining' about is the way the headlights work, then it tells you something about this truck. The build quality is a million times better than the CF – there wasn't a single rattle, squeak, odd sounding door slam or anything, and nothing came off in my hand when I tested it for its durability.
If I give you one piece of advice – opt for the corner-view mirror at least, but take the full DVS package, it is so much better than conventional mirrors.
This truck has it all, and the supermarket drivers used to a no frills truck won't know what's hit them if they get one. Its performance is superb, the quality of the interior is the best in class, the spec is amazing and it's just an all-round great truck. I simply cannot see the XD being anything other than a storming success for DAF.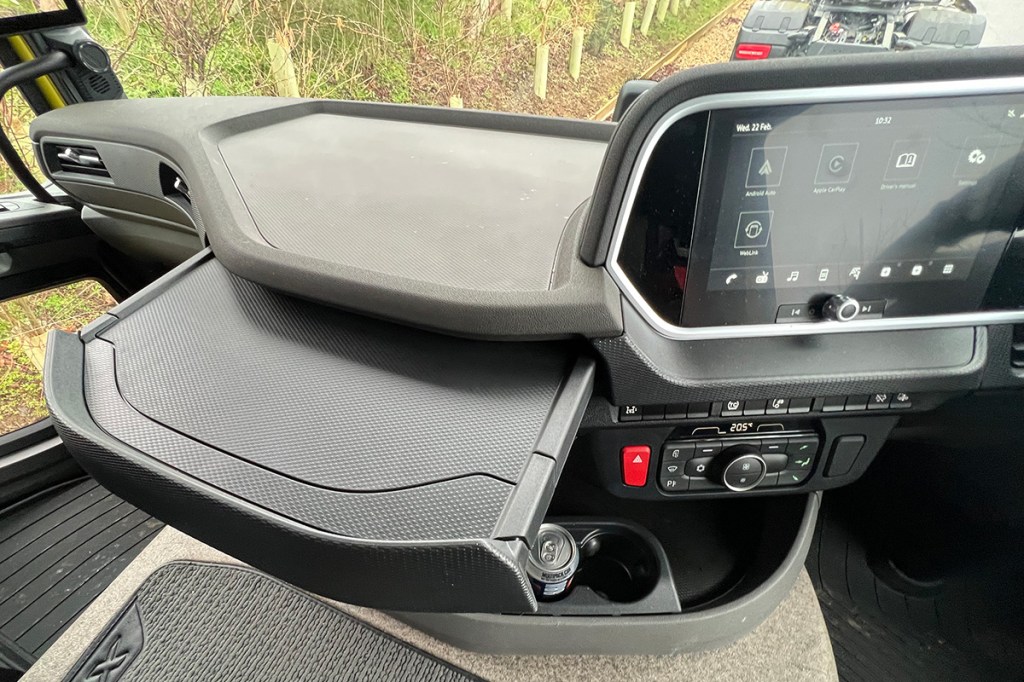 Likes
Quiet in-cab noise level
Exceptional road holding
Excellent build quality
Great forward vision
Corner-view digital camera
Dislikes
Key fob was unresponsive
Sun-visor a bit of a stretch
DAF XD450 FT 4×2
Design GCW: 18,000kg/40,0000kg GVW
Chassis: 3,800mm wheelbase
Front axle: 8,000kg capacity.
Rear axle: 13,500kg, 2.21:1 ratio. 315/70 R22.5 tyres
Gearbox: TraXon 12TX2210 DD I-shift automated Manual 12-speed
Engine: Paccar MX11 330 10.8-litre six-cylinder EGR
Max power: 449bhp @ 1,600rpm
Max torque: 2,350Nm @ 900-1,125rpm
Cab: flat roof single bunk sleeper
This Road test first appeared in the MAY 2023 issue of Trucking Mag. You can order single copies or a digital or print subscription online