Reynolds Catering Supplies has put a new 19-tonne GVW DAF LF Electric into service based at the company's Sherburn-in-Elmet depot for multi-drop deliveries around Leeds. The vehicle is fitted with a Gray & Adams refrigerated and insulated body and a 'Slimline 15' emissions-free temperature control unit from refrigeration specialist, Hulsteins.
Based on a delivery cycle of over 100 miles (six hours per day / six days per week, Reynolds calculates the new DAF LF Electric will deliver an annual CO2 emissions saving of up to 70-tonnes. The emissions-free Hulsteins Slimline 15 unit, which plugs directly into the vehicle's ePTO, will contribute a 10-tonne CO2 reduction annually.
With a fleet profile covering a wide range of weight categories, Reynolds is committed to expanding electrification throughout its fleet, with the company already seeing efficiency benefits with smaller electric vehicles fulfilling local and 'last mile' requirements.
The DAF LF Electric is supplied through fleet hire specialist, NRG Riverside, with a further 29 conventional Euro-6 powered DAF trucks on order, including 13 DAF LF 16-tonners and four new DAF XD 26-tonners in 2023, plus 12 DAF LF 16-tonners expected next year.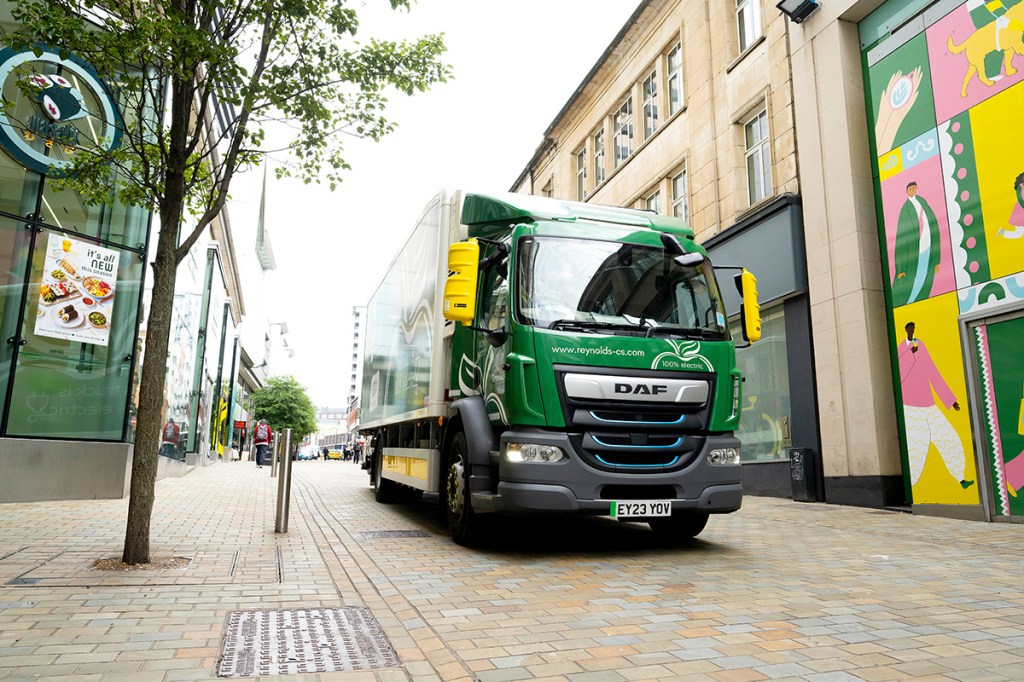 The 19-tonne GVW DAF LF Electric is powered by an electric motor developing 250kW nominal power and nominal torque of 1,200Nm. DAF's latest cobalt- and magnesium-free LFP batteries provide a gross energy content of 282kWh (254 kWh effective) to give the vehicle a single charge range of up to 280km.
Steve White, Head of Fleet at Reynolds, said, "As a truck maker, DAF provides the right profile; top-quality products supported by a widespread dealer network and a service offering that's the best in the business. We know we're in safe hands. At 19-tonnes GVW," he said, "the LF Electric appears to be the ideal fit for our multi-drop inter-urban operation out of Leeds. It's intensive too; 15 drops covering over 100 miles every day, six days a week.
Chris Snelson, Fleet & Asset Director at NRG Riverside, said, "We have a built a great partnership with Reynolds Catering over the years, enabling us to cater to their current and future fleet needs, be proactive with our preventative maintenance, and we're assisting Reynold's in its fleet decarbonisation strategy; this recent DAF LF Electric fridge unit is the first of many to come."