It's not just his passion for ERF lorries that has seen owner driver Branden Jinks put a 21-year-old ECX on the road, it's his desire to not be saddled with debt. But do the sums stack up, and what are the pros and cons of running a much older truck?
Being an owner driver is always a risk, but do it right, you'll make good money, you'll have your independence and you can drive the truck you want and not something a manager gives you to drive.
I've met all sorts of ODs over the years. Some who within minutes of jacking their job in duly rush out and buy a top-of-the-range, high power truck and then spend another £25,000 on customising it before they put it to work. Often they still make money. But not always! You'll hear about the acquisition of the truck, but often not about the later repossession!
Buying a brand new lorry is a risk, and even more so these days. The well-documented shortage of new trucks, and their long lead times for delivery, has seen secondhand prices rise and stock being in short supply. The latter is easing now – there are, once again, plenty of trucks on the used market.
But from what hauliers tell me, new tractor units that were £80,000 pre-pandemic are now £95,000 or more. Those that were £105,000 are now often £140,000, and there is still a waiting time of anything up to a year. Fuel has also shot up in price, and hauliers are reluctantly having to put their rates up. Some try not to and they will struggle.
Buying a brand new truck has a lot of plusses, but it's expensive. Buying secondhand is cheaper, but can have inherent risks and reliability is key to making a success as an OD. But buying an old truck, and we mean really quite old, is surely putting you on the road to disaster? Well, not always.
Newer trucks tend to be more fuel efficient, they certainly have better cabs and features and also, and this is a big factor, are unrestricted in where they can operate. Clean air zones, which I support in principle, mean older lorries are now banned from entering them, unless they pay a, sometimes considerable, charge. And more cities are looking at clean air, or low emission zones. And the more there are, the more old trucks simply have to be retired and sold for export, scrapped, or restored as showpieces.
There are pros and cons of operating new and old trucks. But to find out how you make a decent wage, I went to see 27-year old Branden Jinks and his 21 year old ERF ECX. Such a young driver with such an old lorry begs many questions, so I headed off to the site of the old Bentinck Colliery, now an industrial estate, to get some answers.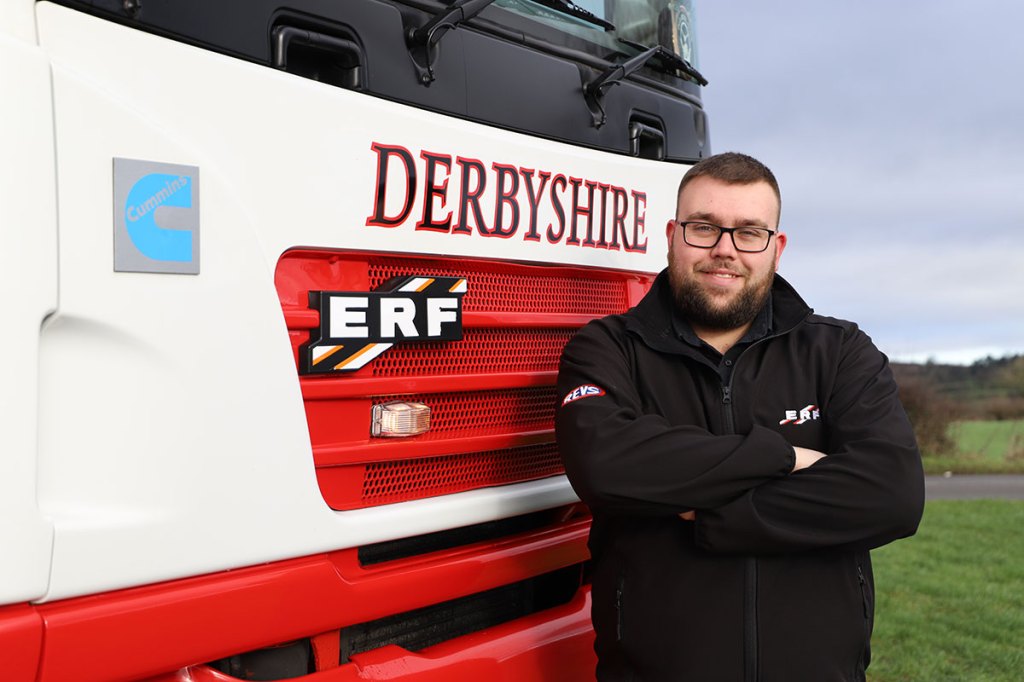 Diehard ERF fan
First up, Branden is a diehard ERF fan, he loves the brand, but putting one on the road as an owner-driver is still a challenge. However, he has an added advantage – he trained as an HGV mechanic so he knows his way around a lorry. He knows a lot more about how they work compared with many drivers. So he's confident he can fix any issue.
Also, it is worth stressing, that his superb ECX is a lot less complicated than many of its later replacements.
So far he's just used it in the UK, but would be happy to take it abroad if the right job came his way. "I have an international licence, but it's not been abroad … Yet!"
Adds Branden, who hails from nearby South Normanton, "I've only been an owner driver for a year, and I went for an old truck because I didn't want to take out any finance and be saddled with repayments. It doesn't cost me anything if it's not being used."
The truck has the once-popular Cummins 11-litre engine, rated at 420 bhp. That's coupled to a ZF 16-speed gearbox. It's a 6×2 midlift – the ECX was also available as a tag axle – and has the high roof Olympic cab.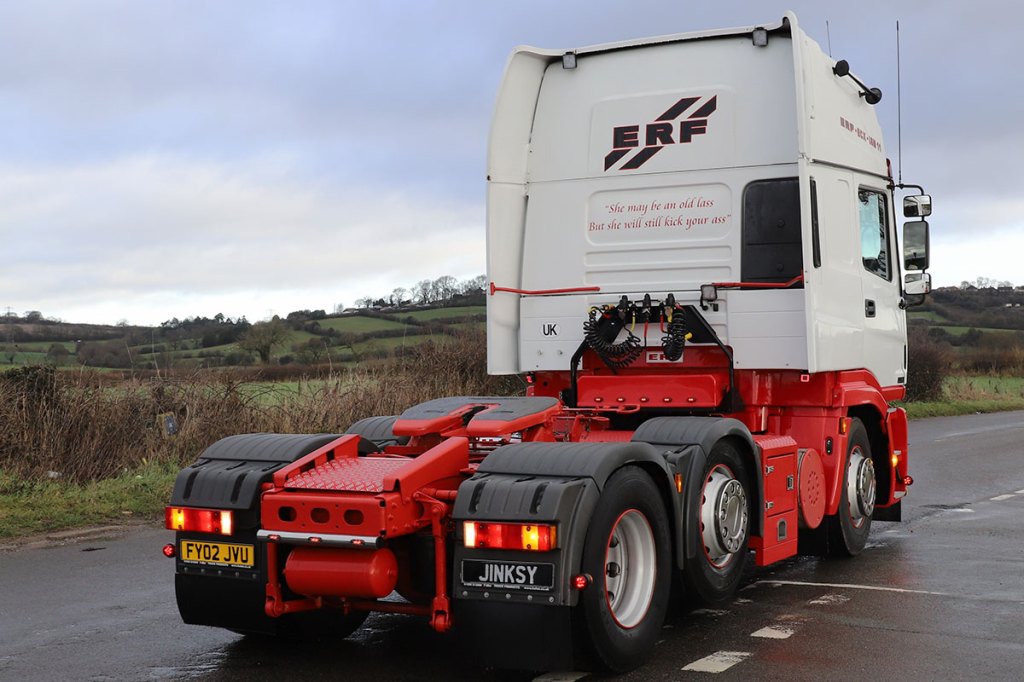 A bargain
The truck was owned by the Studt's fairground operation in London. It wasn't advertised for sale, Branden heard about its availability by word of mouth in January 2022. "Other people were looking at," he says, "but they were looking at possible export. A friend messaged me, and I went to look at it and then mulled it over for a week, before deciding to 'go for it'."
He paid just £4,500 for it, although it wasn't ready to go on the road by any stretch of the imagination. "The steering wouldn't work and it wasn't roadworthy at all, so I had to collect it with a low loader."
"It had never had an MoT until I got it," adds Branden. He's not sure of the exact history of the truck, other than it was a year old when sold by its original owner to the fairground. That meant while it was in use hauling its specialist fairground equipment, and so was exempt from having an annual MoT test. It had spent most of its life operating at gross weights of up to 52 tonnes.
Once he'd got the truck, he stripped the chassis and fitted new brakes, air bags, callipers, back disc chambers and shock absorbers. "It's not had a full restoration, but not far off it."
There were a few other issues: "The gearbox wouldn't go into the low range speeds, but that just needed a valve replacing to fix that. I'm a mechanic by trade so I did all the work myself, with some help from my dad who's been a garage foreman for 30 years. But I'm very familiar with ERFs. The chassis and running gear is all fine now."
The truck also had a Foden fuel tank, but that has been changed to a proper ERF tank. "I think, all in, purchase and getting it on the road, I've spent about £8,000 on it." And of course, it's all bought and paid for – no finance, no debt, no risk."
One of the biggest challenges with operating old trucks is getting parts, but despite the ECX having a short life on sale of just two years, Branden doesn't struggle in that respect. "I use HGV Direct which is really good. Sometimes I have to wait for a part to come from the USA (for the Cummins engine). Getting parts for the cab is the biggest challenge because so few ECXs were built."
Cheshire Truck Parts has also been very helpful in getting spares. Some EC parts are also useable – the ECX being the replacement of the EC. But he also uses eBay and – especially – the ERF Facebook group to source parts as required, "I get a lot of help from other ERF operators and owners, especially those who use ECXs. Turners of Hoole, Seaway Services of Burnley and a few other ODs still have ECXs on the road. I was in Burnley once and called into see Robert Cotterill (of Seaways) when I needed a bit of help."
He does also have another similar ERF ECX, with the same driveline, in his shed which is undergoing restoration. He has had it for five years and initially planned to use it as a show truck, but Branden hasn't ruled out putting it back on the road, assuming he can find the right driver for it, a driver who wants to drive an ERF and not just anybody who wants a job. In the meantime, he can use it as a parts-bin for his working truck if necessary; "I can use it to donate a part which I can then replace later."
Also, the nearby MAN dealer at Ripley can still help in getting many parts. There are quite a lot of MAN components on an ECX anyway, indeed the rear axle has MAN stamped in it.
Branden's main work is in the summer, hauling equipment for large music festivals, and that occupies him for several months, but from October to April, these events are few and far between, so he carries out general traction work for a variety of customers. As yet, he doesn't own a trailer, but he is in the process of moving yards to a new site at Longcliffe near Matlock and then he will look to get a flatbed trailer.
The festival work sees the truck arrive on site, be unloaded then return to collect the next load. It can take anything up to three or even four weeks before the festival opens to the public of back and forth loads. Some are far afield, like the Isle of Wight. But Branden does go the length and breadth of the county. "I'm on site nearly every day and there's a new load every day. There are about four or five ODs all doing this work.
"The winter work is more ad hoc, and I'll sub for anyone who pays well on traction or flatbed work."
He's not suffered any company not wanting to give him work because of the truck's age – and not being as clean as a modern Euro 6 engined truck. But what kind of reaction does he get when he turns up for a delivery with his old machine?
"I had one bloke in Scotland saying I was 'in one of those polluting trucks' but other than that, not a lot." The truck will still attract attention – and cameras – when it's on the road as it is now one of the last survivors of active ERFs – indeed active British trucks – still on the road.
But modern trucks are more fuel efficient – how does the ERF do when it comes to drinking fuel – is it a relaxed sipper, or a guzzler?
"Fully loaded at 44 tonnes, it does between 7 and 7.5 mpg but on lighter work, then it's achieving anything between 9-11 mpg. I spend about £1,500-1,700 a week on fuel. Of course, I don't have to worry about AdBlue. That's important, because if I leave it standing for a few weeks, it won't have any issues when I come to use it again. A new lorry, if stood for three weeks will often have all manner of issues with AdBlue sensors and the like!"
The truck does have a speed limiter, but still uses an old paper tachograph rather than a digital one.
Having brought the truck in January 2022, he was ready to go on the road in May that year. "I'd trained as an HGV mechanic after school, and then I passed my HGV test. I did my rigids in a manual, but my artics on an automatic. I've been driving for other hauliers as well before I took the plunge to become an OD." He spent the four months between purchasing and putting the ECX on the road while still driving or another company. "I then took the plunge and applied for my O licence."
Also what possessed him to go solo? "I'd always wanted to own a truck. I'd done my transport manager's CPC in 2020 and I'd only just got round to using it. I had a good idea of what it would be like to be an owner driver."
Branden pretty much runs the business himself. Girlfriend Jennie will help with cleaning the truck for shows – and when journalists visit! – but he does his own books, invoicing, purchasing and everything the goes along with running a haulage operation. "I have got an accountant, but other than that, I do it all," he says.
"The truck's six weekly inspections are done by Botham Commercials, and my dad does help me out on some of the maintenance at weekends.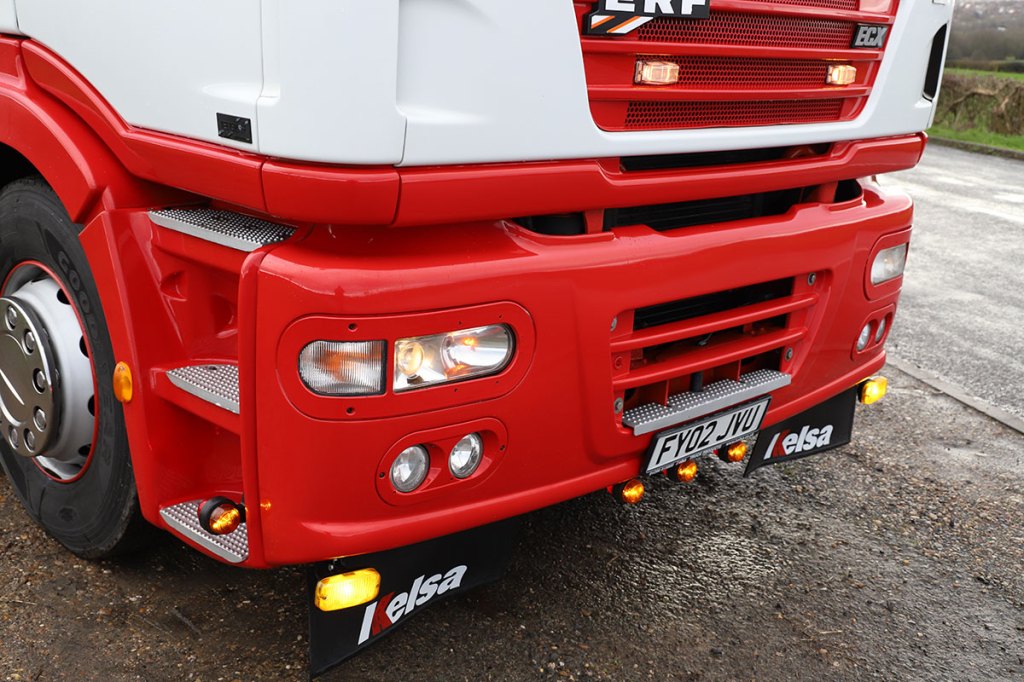 Life left in it
How long does Branden think he'll keep the truck on the road? "To be honest, I'll keep it until it's forced off the road or it's not viable because of low emission zones." Currently he tries to avoid LEZs but he sometimes has to go into one. He says that the cost of the odd trip into a LEZ is offset by not having to pay for AdBlue.
"I might upgrade in a few years if necessary, but I certainty won't go for an electric truck; they don't have the character of this!"
Another 'risk' with an old truck is reliability, but here the truck has been almost faultless. It's never really let me down. I've had one issue in the summer when a boost pressure sensor failed. I was coming off the ferry at Southampton and it felt sluggish and as I went up the road it got worse. I got it replaced and it's been fine ever since. I'll always have a go at fixing it at the roadside should I ever need to."
The truck had done 780,000 km when he got it, which actually is exceptionally low for a truck that was then nearly 20 years old. Now it has 856,000 km.
Branden is generally out all week on the road, tramping from Monday to Friday although like any driver, occasionally he does get home midweek. He loves the cavernous size of the Olympic cab and is especially complimentary about the bunk; "I sleep better in this than I did in a Scania! Currently it doesn't have a night heater, but while I need to get that fixed, I tend not to use them as they make my throat dry. I rely on double duvets to keep warm! I have a stove for a brew in the morning."
As well as the two ECXs, there is an EC14 in the shed being restored, fitted with a Cummins 14 litre engine rated at 385hp and a 16-speed Eaton box. "My dad bought it for restoration for shows."
So for the time being, the ECX ticks all boxes for Branden, and he can't imagine getting rid of it any time soon.
The ECX history
In February 2000, ERF was acquired by MAN and just five months later it unveiled its two new models to replace the EC that had been introduced in 1993.
They were the ECS – which used MAN's steel F2000 cab and the ECX which used what was essentially a reworked and updated version of the plastic composite EC cab shell.
The ECX was aimed more for owner drivers and small fleets and had a cab that could match the European competition, and in its high roof Olympic form, had plenty of room and storage. It also had a wider choice of engines and axle layouts, although not as varied a choice as the EC has benefitted from.
There was a choice of engines with the Cummins ISM 11-litre Celect Euro 2 the most popular. This was available at 380, 405 and 440hp while the Cummins 14-litre at 525hp was the real OD's truck, with bags of power.
Axle layouts were 4×2, 6×2, 6×4, 8×2 and 8×4 rigids and 4×2, 6×2 midlift, 6×2 tag and 6×4 tractors. Cabs were rest/day, sleeper and the high roof. Gearboxes were typically Eaton – the 16-speed S-Series synchromesh, there was no automatic option, although auto boxes were still in their infancy and development, ZF's Ecosplit was also an option.
The Olympic cab was a real flagship and was fully kitted out with a TV, a microwave oven, air-conditioning, fridge, a sprung-mattress raised bunk, a pull-down wardrobe and a radio and CD player. It also had a heated windscreen, central locking and electric windows and mirrors.
The shelf life of the ECX was incredibly short. Faced by mounting costs, MAN moved production from Sandbach to Middlewich, then in July 2002, production ended in the UK with the last of the ECS and ECX models.
From then on, all ERFs were assembled in Germany or Austria but in a bid to further streamline the product range, the two models were killed off and replaced by the ECT – which used the MAN TG-A cab.
The ECX only had less than a three-year production life and the last were sold on 03 plates, so not too many were made and while those retired from general haulage have proved popular for export or for use by showmen, there are still many on the show scene.
It's hard to know how many ECXs are still working, and if you exclude fairground lorries, then we think it simply has to be fewer than 100 left in use? It is worth remembering during the ECX's short shelf life, only probably a couple of thousand were built. The inability for Cummins to supply Euro 4 engines saw the demise of ERF.
New versus old
So, can you make money from an old truck? On the plus side, they are cheaper to buy – they used to be dirt cheap and while that is not necessarily the case with second-hand trucks of existing brands, second-hand ERFs and Foden, while few and far between, still tend to be cheap.
That said, Branden's ECX cost £4,500 while the only ECX I found for sale on the internet was a similarly specced 6×2, but with just a standard sleeper rather than a Olympic cab, up for £7,450+VAT. But that was through dealer, a private sale should be cheaper. The question is can you find one?
There will be a cost getting it roadworthy – you may need to factor in a few thousand for a full or partial overhaul – and you'll need to accumulate spare parts, including buying bits when you see them for sale regardless of whether you need it there and then.
There's no AdBlue cost, but you may have to pay LEZ charges or not take work that ventures into a LEZ. That will become more of a problem in years to come.
Fuel is the other issue, while Branden's ECX does pretty well on fuel, there's no denying a brand new DAF, Scania, Volvo – well, anything really, will be typically a couple of mpg better. That can add up over a year to several thousand pounds depending on how much the truck is used.
Another issue is getting a driver. If you are buying as an OD, then it's not an issue, but these days you can't expect to recruit a driver and then say "oh, there's your truck" and point them to a 20 year old ERF. Unless they really want to drive a classic. Besides, if they passed their test in the last decade, they may never have even driven a manual truck! And that's a skill!
Old trucks have a lot of charisma and you'll stand out in the crowd, and they sound nice as well. Important consideration if trucking is a culture to you and not just a means to get a pay cheque!
So the pros are: they are cheaper to buy, charismatic, no finance needed, easier to maintain, no AdBlue.
The cons are: potentially less reliable, spares may be an issue, less fuel efficient, not suitable for LEZs, hard for driver recruitment.
Should you go bold, go old? Well for the work like Branden does, then the ERF makes perfect business sense, especially as he has the knowledge and expertise to maintain it, and he's a self-confessed ERF fan. He doesn't double shift the truck so his fuel usage is comparable.
And not having a monthly HP payment hanging over your head is a major boost – as Branden says, if he parks the truck up, even for weeks, it isn't costing – or losing – him money. It's all bought and paid for.
While there are now very few ERFs (and Fodens) still at work, and even 20 years old trucks – especially 44 tonners – are also pretty thin on the ground, a handful of operators can make a very good business case for still using them. But for driver recruitment, in this day and age you simply need newer truck, with their expected 'creature comforts.'
In all honesty, there's no one-size-fits-all and while it's clear newer trucks make a lot of sense for most operations, they don't for every haulier or OD. It's horses for courses.
One thing though: pretty much everyone involved in trucking likes to see an oldie at work and seeing and hearing an ERF ECX on the road is still a wonderful experience!