Mercedes has recently updated its most popular engine for top weight tractor units with the OM471 now on its third variation. We took a 2545 over a gruelling 300 mile test drive to see how it performed.
By Pip Dunn
The Mercedes 2545, and its lightweight 2445 brethren, is the most popular 44-tonner in the German company's portfolio if sales are anything to go by. It's seen in many fleets running at top weight and combines efficiency and productivity with driver appeal.
It a very versatile model, you can have it with three cab types, with numerous options on size and height and it's flexible and reliable. That explains its popularity. It's a common sight in many fleets, large and small.
It's in the most congested sector; the 6×2 midlift 450 bhp sleeper cabbed tractor units, but that also means it has a lot of competition from every other manufacturer. And with that in mind, it has to deliver a comprehensive package of affordability.
Under the cab is the newly-launched third generation of the popular OM471 12.8 litre straight six engine. In the 2545 it's rated at 449 bhp, the entry level is 421 bhp but you can also have it at 476, 510 and 530 bhp. That's a lot to choice for one engine. It also overlaps with the OM470-powered 10.7 litre straight six – available at 428 and 456 bhp for 6x2s. So Merc. has a lot of choice in this sector with seven outputs – and that is not even taking into account the biggest 15.8 litre straight six.
With many hauliers preferring the 10 bhp per tonne, then it's clear why the 2545 is so popular. Trucking has driven many '45' Mercs over the years, indeed we recently took an 1845 40-tonner for a spin, so we were keen to see how the 'new' 2545 fared.
When we test-drive Mercs we usually, but not exclusively, have a trip out from the company's Wentworth Park base, near Barnsley and head over the Woodhead pass, skirt round Manchester and come back via either Saddleworth Moor – great for pictures – or the M62 – not so great for pictures!
On this test run we did more than double the mileage to give the truck a much more demanding workout. Our route was straight onto the M1 at Barnsley, up avoiding Leeds and onto the A1M to Scotch Corner, then it was across the challenging A66 to Penrith and down on the M6 to Carnforth where were stopped for our 45 minute break at Truckhaven Truckstop.
Thereafter it was back onto the M6, then the M61 to join the M62 before coming off at Junction 23 to experience a bit of twin driving through Huddersfield and then down to Barnsley on the A629. Overall it was a 300 mile run,so a great chance to really get the feel for the truck. We were loaded at maximum gross weight with a tri-axle curtainsider, giving a total height of 13ft 10in.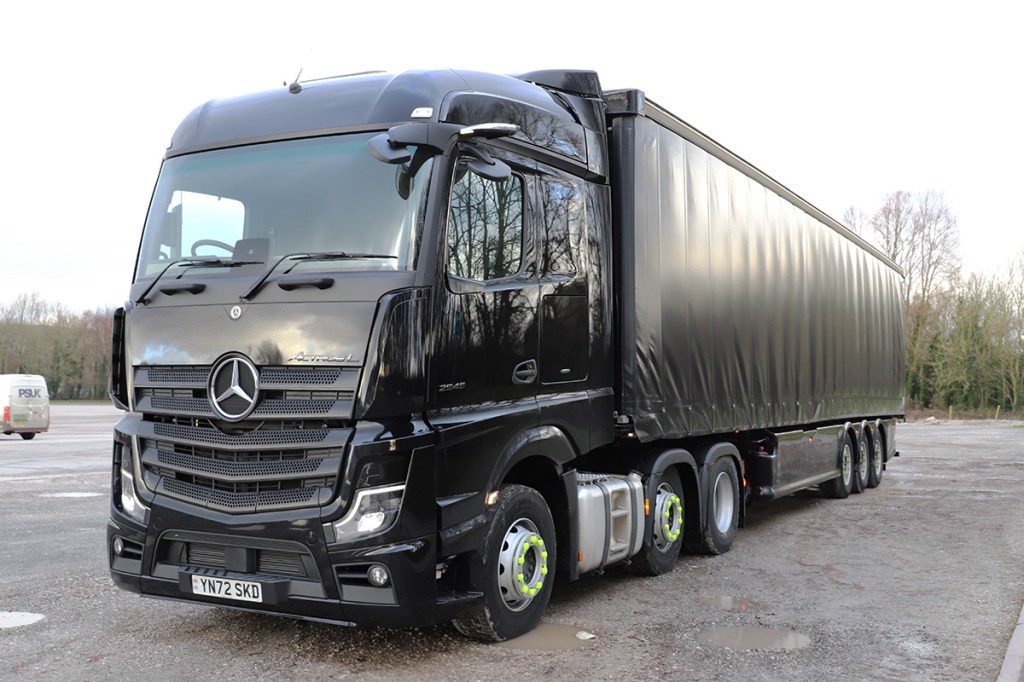 Technical overview
As mentioned, the truck was powered by Version 3 of the OM471 Euro 6e engine which has a displacement of 12.8 litres and delivers 449 bhp, a torque rating of 2200 Nm at 800-1450 rpm and a Top Torque rating of 2400 Nm at 900-1300 rpm.
Merc says the third generation OM 471 is improved and should reduce fuel consumption by 'up to' 4% compared to previous models which means reduced CO₂ emissions. A new integrated exhaust control system delivers a better compromise between efficient combustion and AdBlue consumption. Two turbochargers are used.
With improved torque build-up at low rev speeds, start-up is smoother and PowerShift Advanced simplifies starting and gear shifting – Merc says in the upper gears the shifting times are up to 40% faster, which reduces torque disruption.
Merc says the third generation OM 471 is improved and should reduce fuel consumption by 'up to' four % compared to previous models
Top Torque releases an additional 200 Nm from seventh gear in Standard and Power modes so the truck doesn't downshift from 12th to 11th when cresting over hills. This allows fuel savings of up to 0.3% on long-distance journeys.
Mercedes claims this makes it easy to perform better on hills and when accelerating. The extended Top Torque is available for the 449 and 476 bhp ratings combined with the G211 transmission.
Other features of the new engine are new injection nozzles that increase hydraulic flow by up to 50%, new asymmetrical cylinder head intake geometry which improves fuel flow in the cylinders and new piston geometry which generates a higher compression ratio and higher peak combustion pressures resulting in more efficient combustion.
Additionally new oil pressure control valves reduce pressure by up to 60% while still protecting components plus a new fuel pump and new engine oil – 0W20 low-viscosity to reduce internal friction.
The transmission is the expected Mercedes Powershift 3 12-speed automated manual G 211-12 gearbox with a range of ratios from 11.63 to 0.77. The rear axle ratio is 1:2.412.
The axle capacities were 7500 kg on the front and midlift axles and 11,500 kg on the drive axle. That said, the design weight of the unit is 25,000 kg. The 2445 light midlift has a 4000 kg centre axle and will save you about 150 kg off the tare weight. The truck tipped the scales at 8694 kg. That's not a bad unladen weight, but not best in class either, but be careful, spec a GigaSpace, and add a few 'bits and pieces' on it, and you'll break the nine tonne barrier. Tyres were 315/70R 22.5 throughout.
The Cab was the 2.5m wide BigSpace High Roof Sleeper Cab. That means it has a flat floor and four step entry. You can have this with the slightly highest StreamSoace and the truly cavernous Giga Space if you want more room.
As mentioned there are a host of other cab options, with some operators opting for the 2.3m wide cab which comes in flat roof and high roof variants. We've been writing about this version of the Actros cab since its inception in 2012, and still need to refer to the manufacturer's brochures for the full cab options because it still remains so varied, and therefore borderline confusing!
The wheelbase was 3700 mm or, if you prefer 2650 mm with an overhang of 1050 mm. The truck had a 490 litre fuel tank and a 40 litre AdBlue tank.
As we have come to expect these days with any Merc press truck, it was fully loaded when it comes to safety features and other gizmos. That meant it benefitted from Active Brake Assist 5 and autonomous emergency braking with pedestrian recognition, but another big point was the fitting of Second Generation MirrorCam with improved resolution, image quality and contrast.
As regards the latter, we have briefly driven a Merc with this, an unbodied, electric eActros, but this was our first drive with it on a loaded, maximum size artic. The new set up also means the passenger side kerbside mirror is also moved forward. Merc has resisted to follow DAF's lead in changing this and the above-windscreen mirrors to digital cameras. It says there is no fuel benefit in doing so.
Being an Actros L, as opposed to a simple old Actros, it had the improved noise and heat insulation to ensure a quieter cab and a very slightly lower floor.
Being an Actros L, as opposed to a simple old Actros, it had the improved noise and heat insulation to ensure a quieter cab and a very slightly lower floor. Of course it also had the Interactive Multimedia Cockpit, now five years old, and still very good, although we still have the same reservations we had when we first used it in 2018, that tapping buttons on tablets while driving can be mildly distracting.
The Electronic Handbrake is a bit of a Marmite feature and if we are honest, we are still fans of a good old style, dash mounted handbrake lever. That said, it does have a benefit when pulling away from a stop at, say, a set of traffic lights on an incline. The truck also had Trailer Stability Control Assist.
There are a host of benefits for the driver to make their job easier and more comfortable – as you'd expect from a Merc. We do, however stress, check what is an option and what comes as standard. Failure to tick the right, or enough, boxes on the spec sheet may leave your driver mildly disappointed. Nevertheless, the truck boasted two USB-C ports, dual Bluetooth connectivity and Apple CarPlay, Android Audio functionality, Traffic Sign Assist, Attention Assist, Lane Keeping Assist and Stability Control Assist.
Other features are Keyless Go with remote central locking and light check functions, Enhanced Predictive Powertrain Control, tyre pressure and axle load monitoring via Multimedia Cockpit display and air-suspended seats with driver's seat with massage function.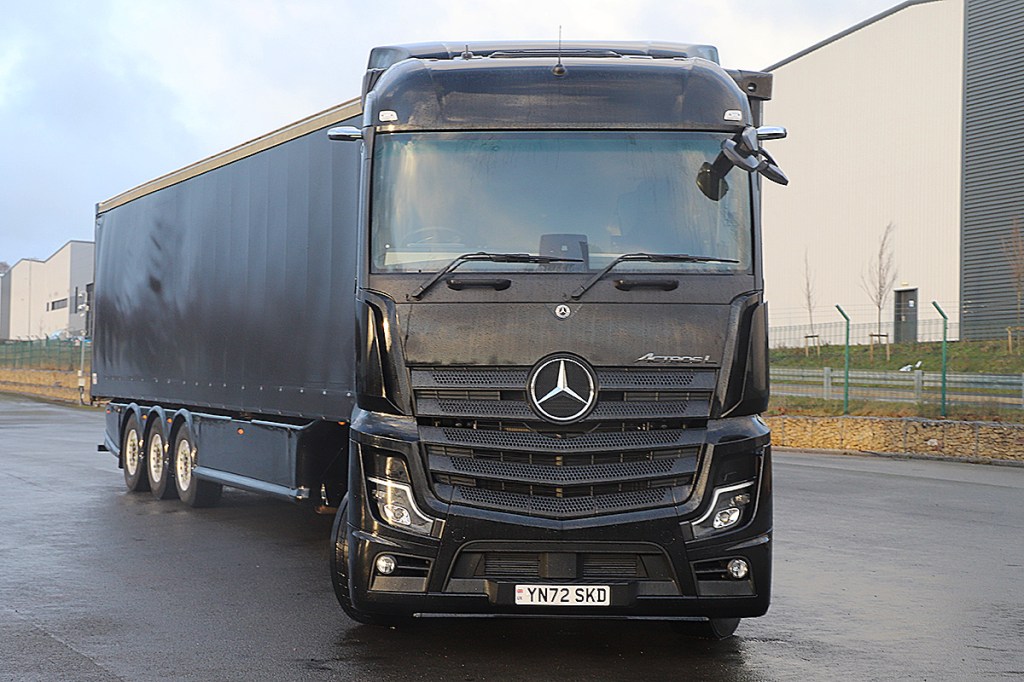 On the road
While we generally like Mercs, we have been very critical of their dislike of hills, especially the '45' models. We have regularly said the 2548 or even 2551 are a better bet mainly because Mercs always seem so laboured when hill climbing, so we were especially keen to see how the truck performed on a run like this, with plenty of hills, some of them rather 'nasty' given the added challenges of the topography on the A66.
Remember, unlike many 44 tonners in day-to-day use, we were actually running at top weight, so this run would test the truck to its maximum.
It soon became quite apparent, that the 2545 was, as before, struggling on the inclines. We appreciate there are pros and cons with more power simply to make hills a lot less hassle but with the Merc it was positively staggering at points, down to 30 mph when we'd have expected 40-45 mph. That changed when we started to use the power mode, which addressed it to a degree, but still saw the truck sauntering up the hill at 38 mph when, as we say, we'd have expected in the mid 40s. the power mode, of course, comes at a price – it will use more fuel. So you have to make a decision – use more diesel but save time.
It soon became quite apparent, that the 2545 was, as before, struggling on the inclines. That changed when we started to use the power mode, which addressed it to a degree
Of course each driver will be able to make a case by case decision on that. If they are on a fuel bonus, they'll want to avoid the power mode and pop it in economy mode, if they are on a tight schedule, or run the risk of running out of hours earlier than they'd like, then it's useful. There is an in-between mode between economy and power, which might be the trade-off you need. But there is no getting away from it, the 2545 struggles on hills and that could be costly for you.
It is worth mentioning, however, if you slip it into Power mode, and then forget about it, you won't be stuck in it – it's still programmed to save fuel so it is power on demand, and when not required, or after 10 minutes, it will go into Standard or Economy mode.
We must stress we don't want to diss the Merc too much, and sometimes it was ok going up hills – when it had a good run up and the road wasn't bending left right and centre but even on some of the motorway climbs which are very straight, it was struggling.
Maybe we are being overly critical, and the sheer number of Mercs you see on the road – as did we on this test – means operators must still be relatively happy with them. If we were buying this, we'd got for a 2548 or 2551.
The truck handles very well indeed and the steering is nice and light, very precise. It was a very windy day – we overtook a truck on its side at Tebay on the M6 – it was that windy – and that wind also caused a bit of draught noise in the cab. We also felt the new engine was a little noisy at times but the better insulation of the Actros L is certainly clear to see, or hear!
Merc's MirrorCam was ground breaking when it first appeared just over four years ago, and we have been fans – converts if you like – ever since.
Merc's MirrorCam was ground breaking when it first appeared just over four years ago, and we have been fans – converts if you like – ever since. Merc has once again lead and others are following. The new DAF system was better than the V1 MirrorCam. Would it be better than the new version? Well, the new version is better, the definition is better and even when there was glare, there was no inability to see what is behind you. Of course, having screens on the A-pillars and no wing mirrors means there's no blind spots caused by mirror arms. The new V2 has shorter camera arms which is a bonus and will limited even further their chances of getting hit.
We get why some operators are still reluctant to take it – they feel it's 'another thing that can go wrong', but we are still adamant the pros far outweigh cons and the chances of failure are negligible. And given how tech-heavy trucks are these days whether you like it or not, then worrying about something going wrong doesn't hold much water.
Is it better than the DAF? Well, in all honestly, we'd say they are level. There's nothing in it
Is it better than the DAF? Well, in all honestly, we'd say they are level. There's nothing in it. We can't wait to drive the new MAN with Optiview, which we hope to do any week now,
We reiterate, digital mirrors are the future the way forward and the sooner all trucks have them – at least as an option – the better. We say full marks to Merc for pioneering such technological advancements.
The 2545 is a nice drive, that so for sure. It's comfortable – after nearly seven hours in the chair, a good replication of a typical day's driving for many truckers, we felt comfortable enough, with no stiffness at all. There is a little headrest pillow which we really liked and the armrests, while stiff – which we'll put down to the newness of the vehicle – were comfortable as well.
The digital dash also remains excellent and informative and regular drivers will set up the screen they want for the level of information they want. The Predictive Powertrain Control still offers more benefits than hindrances, but you need to get familiar with it, and set it up as you want. If you are overly cautious with it, it will slow you down too much and too soon, which given the truck's performance on hills can be problematic, although it remains a useable safety feature.
The Predictive Powertrain Control still offers more benefits than hindrances, but you need to get familiar with it, and set it up as you want.
The Active Brake Assist is an excellent feature. It's still a risk to rely on it and your brain makes you apply the brake as required, but it's a belt and braces safety feature that deserves its plaudits.
The five stage High Performance engine brake on the Merc is also very good and for virtually all of the journey, we simply didn't need to use the footbrake – a bit of congestion on the M6 near Preston was one occasion when we did, though the ABA would have brought us to a stand if we'd not been concentrating.
The Merc has lots of little features that make driving better. The cup holders are well positioned, and there are three off them close to hand by the driver, of two different sizes. There are USB ports as well and the phone charging panel is a great feature- that is an option, though, your average fleet truck might not have it!
VERDICT
We have driven many 450-480 bhp tractors in recent months – Volvo's FH460 Turbo Compound, Scania's new 460R, DAF's XG480, MAN's 26.470, Iveco's S-Way 480 and Renault's Range T480 so it would be churlish not to draw some comparisons.
We often joke if you could take the best bits from all trucks, and put them in one, you'd have a supertruck. Sadly, that will never happen.
The Merc has a lot going for it, it's well built, it's very comfortable, it's an acceptable weight, and it's very good on fuel. Price wise – the thing manufacturers hate us talking about – it's probably in the middle.
It's not the premium brand of a Swedish truck, but it's technologically more advanced than they are, certainly in terms of safety and gadgets. Actroses have always been good on fuel – sometimes these best, other times close to being the best but rarely poor.
But we simply can't get away from its sluggish performance on hills and that could cost you. Time is money and yes, you can argue you'll end up waiting on a bay to be loaded to unloaded anyway so why rush, the fact of the matter is it will eat into your driving time, if you are doing long distance work – such as into Europe – with just one drop at the end, then you will take longer to get there. And over, say, a Doncaster to Milan run, that could be several hours.
We love Mercs for their forward thinking in terms of safety and features, we can't really fault them on anything other than that poor performance. We'll say it for a last time, if you like Mercs, or want a Merc, seriously try for a bit more power and torque from the more powerful outputs from this engine.
Finally, was the Version 3 of the OM471 any better? Honestly, we didn't notice too much difference and the extra torque certainly didn't leave any lasting impression with us. We will just assume it's better because it's more advanced, and so saves a bit more fuel…
But compared with the improvement Volvo has with its turbo compound option on its 460 bhp FH, the Merc is trailing in its slipstream.
We like
Comfort
Handling
Cab layout
MirrorCam
We don't like
Sluggish on hills
Electronic parking brake
Specification
Mercedes Actros L 2545LS
Design GCW: 25,500 kg/44,000 kg GVW
Chassis: 3700 mm wheelbase
Front axle: 7500 kg capacity.
Rear axle: 11,500 kg (drive) 7500 kg (midlift), 2.47:1 ratio. 315/70R 22.5 tyres
Gearbox: PowerShift Advance – 12-speed automated manual – G 211-12
Engine: Third Generation OM471 Euro 6e, 12.8-litre, straight six
Max power: 449 bhp at 1400-1800 rpm
Max torque: 2400 Nm at 900-1400 rpm
Cab: L-cab StreamSpace, 2.50m wide, flat floor
This Road test first appeared in the APRIL 2023 issue of Trucking Mag. You can order single copies or a digital or print subscription online